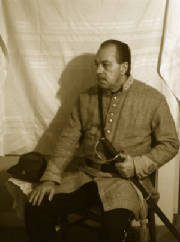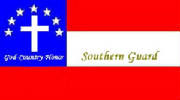 To the Honored and Loyal Members of the "Southern Guards Brigade" It has been a pleasure serving with all the members of the individual Companies comprised of the Brigade and Hardees Corp in 2008. I look forward to 2009 with anticipation and excitement as our Brigade moves forward and our Corp grows .
We have some new events planned for 2009,such as Atlanta and Cedar Creek to name just two, both of which should offer us some new challenges. For me reenacting is much more than a hobby but a passion I share with everyone I serve with.The Brigade and the Corp in which i serve hold the same passion for me. I welcome the new companies who have just joined us and look forward to seeing you on the field soon. If i would ask anything from the membership for 2009 ,It would be to let us all focus on we instead of just me attitude.
In closing, let me once again say what a pleasure it is, to be just a part of this great Brigade and Corp and I will always be grateful for the friendships made over the years and look forward to making new ones in the future .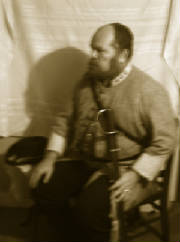 Lt. Col Keith A. "Skippy" Cornelius
Message from The Chief of Staff


Well its been one Action Packed Year, I have been honored to be General Parsons Chief of Staff. You as the members of the Southern Guard Brigade have made your ancestors proud. Gettysburg was the highlight for a lot of people. I dont think there was a dry eye one the field after Picketts Charge, You marched with precision and fired and fought as one. Our brothers from Florida joined us and we gave the Federals Hell, The ones who were on the recieving end of our wrath wont forget us soon, I am sure.

The Battle of Jonesville,Virginia, was wonderful as always and I believe this year was one of the best battles I have attended at Jonesville, It was warm but it felt like we were in the actual battle. It was great. The 37 th Virginia did a fine job in hosting the event.


We participated at Chicamaga,Georgia and everyone did a fine job. It was hot and on Friday our Brigade held a force of Calvary twice our size of the main body and the Commanding General was very impressed with the way you fought and the honor you fought with. LT. Col Kohl, took over when he arrived and you did well and made us all proud.


At the Battle of Fort Sanders in Tennessee with our brothers from SC and the 37 TH VA we represented the 2 ND SC who actually fought there and that was a emotional time for me because I had ancestores who fought and died at that battle.


I could go on all day with this last season but we need to move on to the next season. If we fight this next season like we did the last boy those bous in blue are in trouble.
We need to always remember our military protical and our authenticity and it will be a great year.

Before I close I want to welcome Major Shoner to our staff as our adjutant. I have served with in the past, He now resides in NC and he will be a asset to us.
In closing I am honored to be a member of the Southern guard Brigade and am truly blessed to fight with such brave solders as yourselves.


Sincerly

LT COL K. A. Cornelius

Brigade Sgt. Major David Honeycutt
I begin reenacting some 12 – 13 years ago. As all of us I started as a trooper, a member of a dismounted cavalry unit. While a member of this unit I was promoted to Cpl., then several years later to Sgt. The dismounted unit had a split and I went with the new 5th Florida Company I Infantry, I was promoted to Lt. In 2003 I was promoted to Capt. and made Battalion Adjutant to Col Robert Niepert. While serving under Col. Niepert I was also Battalion Quartermaster, and served as Provost. In 2007 I was promoted to Major Adjutant 3rd Battalion.

I am looking forward to 2009 being the best year for the Southern Guard Brigade. We have new event to attend, new friends to meet. And lots of powder to burn. Remember as General Parsons said, "Let's focus on WE instead of just me".

See ya on the field. Stay safe.

Your Obedient Servant

Maj. R E Schoner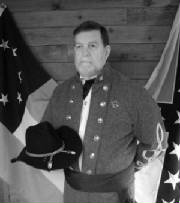 Adjutant Ron Shoner